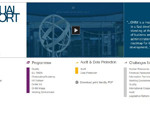 OHIM, The Office for Harmonization in the Internal Market has recently released the "Annual Report 2012″ containing updated information and developments on its activity. In particular, the report indicates a total of 107.927 Community trademarks applications filed in 2012, performing an 1.9% increase compared to 2011. Such raising rate is not so relevant compared to 11.4% and 7.7% registered, respectively in 2010 and 2011, however, it reveal a fairly rate considering the international crisis affected many of OHIM's top filing European Union Countries. The number of oppositions filed against CTMs have been 16.634 remained substantially stable compared to 2010 and 2011. The cancellations against the registration of Community trademarks were 1.262, with an increment of 163 requests.
The report also refers about the developments of the European Trade Mark and Design Network, an interoperable and collaborative network of European IP offices, contributing to a stronger IP environment for users. Two major projects stem from it: the Cooperation Fund, dedicated to building common tools for EU IP offices; and the Convergence Programme, fostering voluntary harmonisation of practices. The Network is aimed to enhance the legal certainty and to reduce the transaction costs for users.
OHIM also refers about the Observatory (European Observatory on Infringements of Intellectual Property Rights) that was officially transferred to OHIM on 5 June, 2012. ON that respect, we underline the tools that are being developed in order to strengthen and support the enforcement of IP rights across the EU:
- The "application for customs action" (AFA) allowing Community trademarks' and Design's holder to submit a form informing EU Customs Authorities on its goods suspected of infringement.
- The "Central repository of statistics" aimed to collect, analyse and report data on counterfeiting and piracy in the European Union.