The Office for Harmonization in the Internal Market (OHIM) has released the "Annual Report 2013" containing updated information and developments on its activity. The report shows that the Office received more than 114.000 Community trademarks (CTM) applications during year 2013, which is 6% higher than in the previous year 2012 and double the growth figure assumed in the Work Programme.
CTM APPLICATION TREND
The increase in CTM applications in 2013 is very positive in particular if we refer the continued impact of the economic crisis which affected many countries in and outside the UE. In this regard, OHIM's top ten applicant countries in 2013 were, in order: Germany, USA, UK, Italy, Spain, France, Switzerland, Netherlands, Austria, Poland. In particular, we underline that these countries accounted 76% of all CTM applications in the year 2013.
The report also refers that the number of oppositions filed against the registration of the Community TradeMarks in 2013 have been 17.000. However, it has been substantially stable compared to previous three years, the No of opposition filed proves the critical role of the trademark search that have to be performed before filing the trademark application. On that respect, the only way that applicants have to limit the risk to infringe third parties' trademark right, and to avoid the risk to be sue in Court for trademark infringement and to receive oppositions, is to properly do a trademark search aimed to carefully and legally evaluate prior trademarks rights.
CTM OPPOSITION TREND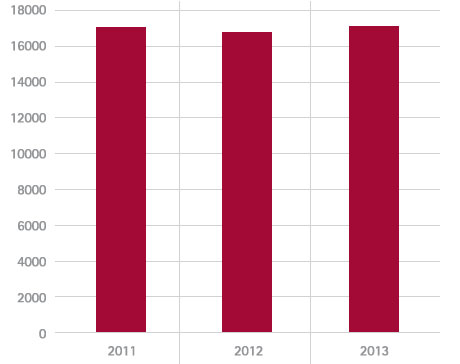 NEW OHIM WEBSITE
The report also refers about the new OHIM's website that has been launched on 2 December, as a major stepping stone in achieving the Office's goal of developing a fully-fledged e-organization. It have been so reported the new e-resources of the website focused on an improve security system, new functionality and new features that will improve the efficiency of the Office and will reduce the costs for applicants.
For more information: